Déplacer Visual Studio Team Services d'une zone géographique à une autre
Date of publication

9/5/2018
No comments
Si comme moi, vous avez utilisé Visual Studio Team Services (VSTS) depuis le début, vos services sont certainement hébergés aux États Unis. Ceci n'est pas toujours des plus judicieux. Surtout si vous liez VSTS à d'autres services hébergés en Europe ou un autre continent que le continent américain.
Heureusement, il est possible de déplacer les services VSTS d'une zone géographique à une autre.
En soi, il n'existe pas de commande disponible via le site VSTS, ni même de commande PowerShell. Il existe cependant un processus tout simple, mais peu connu.
Première étape : Le formulaire de demande
Dans un premier temps, il faut aller sur le site de support de VSTS et s'authentifier avec un compte qui a la gestion du service VSTS (ceci n'est pas un impératif, mais cela simplifie et donc accélère le processus) :
https://visualstudio.microsoft.com/fr/team-services/support/
En bas de page, on peut trouver le formulaire suivant. Il faut sélectionner « Technical Support » puis le niveau de support souscrit par votre société (dans le cas présent, l'utilisation du support basic n'est pas pénalisant).
Vous êtes alors amené à classifier sa demande en type « Configuring Team Services » et catégorie « Changing account region ».
Ensuite, il suffit d'utiliser le bouton « Start request » pour arriver sur le formulaire qui suit.
La première partie du formulaire consiste à fournir des informations pour les échanges ultérieurs.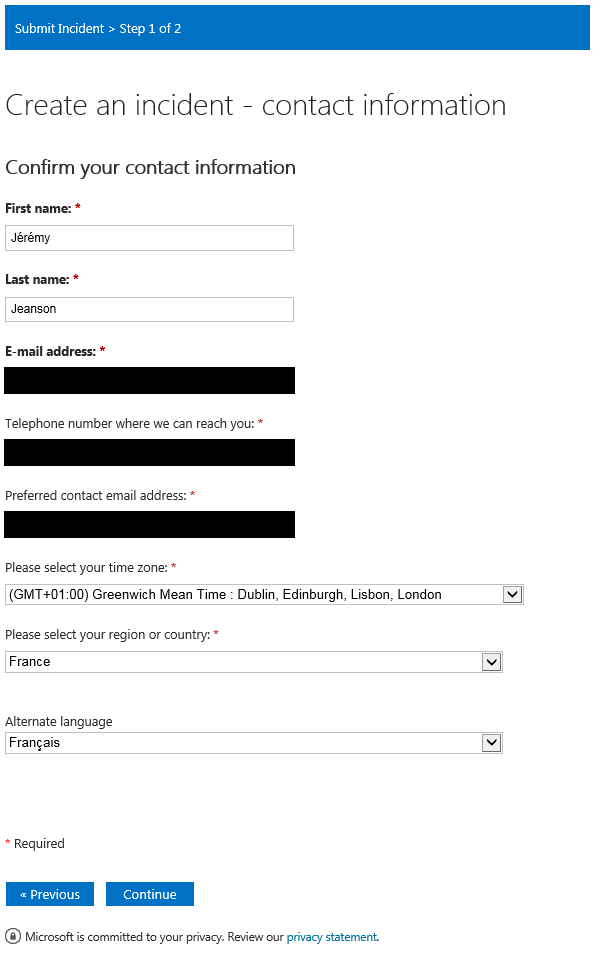 Si vous utilisez le bouton « Continue », vous arrivez sur la seconde partie du formulaire. Ici vous devez décrire sa demande. Voici l'exemple de ma demande sur l'un de mes services.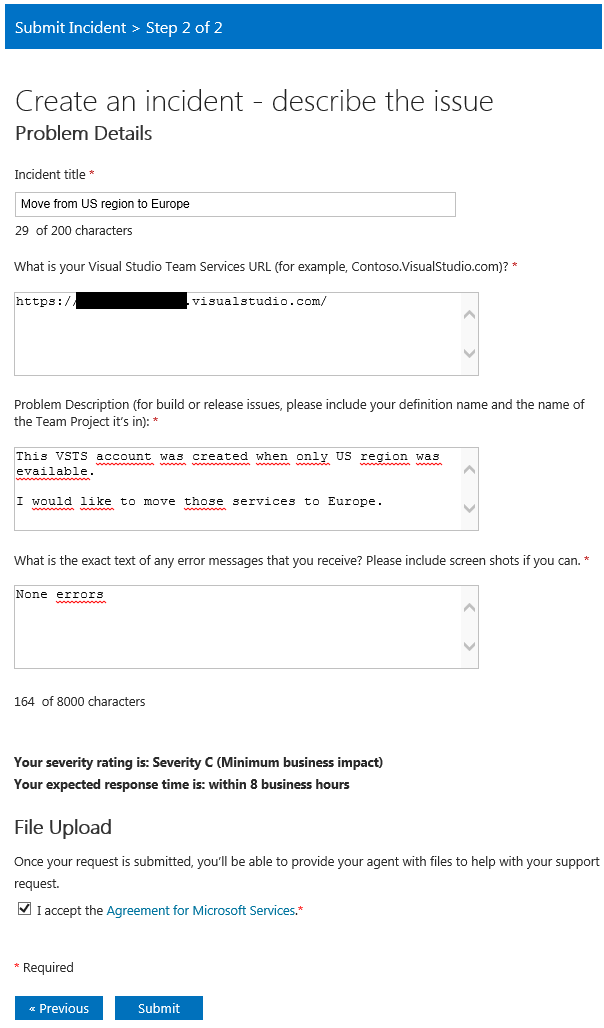 Comme vous pouvez le voir ici, j'ai décrit sommairement ma demande pour indiquer que je souhaitais un déplacement des US vers l'Europe.
Une fois le bouton « Summit » utilisé, vous arrivez sur un résumé de la demande. Une copie est envoyée par mail.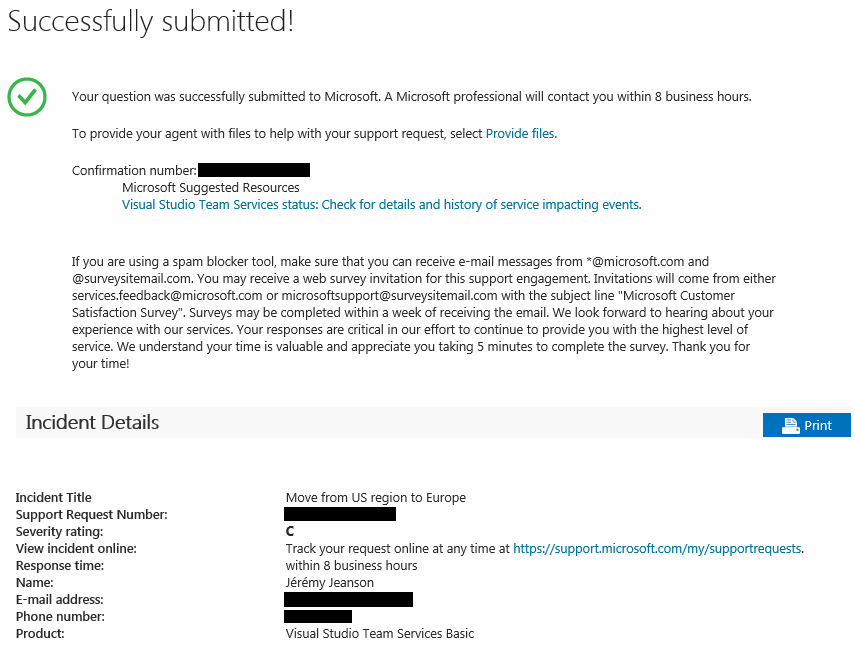 Seconde étape : Les échanges par mail
Par la suite, une personne du support vous contactera par mail afin d'obtenir les réponses aux questions suivantes :
1. What is the current region where the VSTS account resides?

Réponse -> NCUS

2. What is the target region where the VSTS account should be migrated?

Réponse -> West Europe

3. Do you use the hosted XAML build controller (*important*)?

4. Some downtime will be required to complete the migration (~5 hrs). As such, please provide a good date and time (in UTC) during which the migration can occur. For example, any night between 18:00 - 06:00 UTC, or anytime on weekends.

5. Please explain the reason for this request; was the desired region not available at the time you created your account? Was your account created in an unexpected region?

Réponse -> This VSTS account was created when only US region was available.
La personne du support aura préalablement repris les données fournies dans votre demande pour préremplir le questionnaire (lignes que j'ai préfixées par Réponse ->).
À la réception de vos réponses, votre interlocuteur nous retourne par mail le fait qu'il les ait bien reçues et qu'il doit vérifier que les deux zones sont au même niveau de version de VSTS.
La migration
La migration a ensuite lieu et votre interlocuteur du support nous informe par mail du succès de celle-ci. Il nous fournit aussi le lien vers la page de nos services qui nous permet de vérifier leur localisation géographique : https://xxxxx.visualstudio.com/_settings/overview
Voilà ;)
Par la suite, vous recevez l'habituel lien vers le questionnaire de satisfaction. Il est très court, prenez donc le temps d'y répondre (cela motive les personnes du support).