This project is 'MAT' enabled, but no XLIFF translation files were found in the project.
Date of publication

1/31/2019
No comments
Voilà un warning à ne pas prendre à la légère. Celui-ci ne peut se produire que si vous utilisez le Multilingual App Toolkit (MAT). Ce warning, en fait est le signe d'un gros problème dans votre application. MAT ne trouvant pas de fichier XLIFF (ou XLIF) dans votre projet, il ne procédera pas à la mise à jour de vos fichiers de ressources lors de la compilation du projet.
Ce warning est donc plus une erreur critique qu'un simple avertissement.
Comment s'en sortir ?
Pour se sortir de ce mauvais pas, il suffit de vérifier les propriétés des fichiers XLIF/XLIFF présents dans vos projets.
Si Build action est dans l'état None, ce n'est pas bon.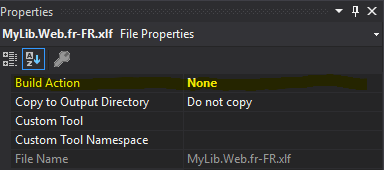 Build action doit être dans l'état XLIFF Localization file.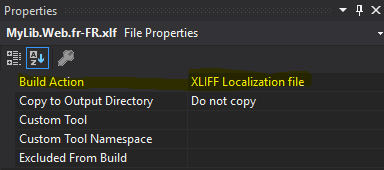 Le warning disparait alors de suite et on peut compiler son projet. Si besoin, les fichiers de ressources sont alors mis à jour automatiquement.
Moralité
J'ai rencontré ce problème lors de la migration de projets (passage de .net Framework à .net Core). Je conseillerai donc à toute personne qui procède à une migration entrainant de gros changements sur les fichiers .csproj d'être très vigilant concernant les propriétés des fichiers présents dans leur projets. Pour tout ce qui est C#, vue Razor et autres, il n'y a en général pas de problèmes. Pour tout ce qui est ou peut être dépendant d'un complément ou d'un composant propre à Visual Studio, soyez prudents.